Several years ago Gordy wrote a book journaling his tours with a band called The Moody Blues.
It was titled 'Postcards From a Rock & Roll Tour.'
As a followup, Gordy will be sharing a new podcast series he has created. 
Postcards From a Rock & Roll Tour – From Rockstar to Uber Driver and Back.
Listen to Gordy's podcast on all major platforms that include Apple Podcasts (formerly iTunes), Amazon Podcasts, Google Podcasts, Spotify and more. 
Here are a few links to take you there –
Check out Gordy's podcast on APPLE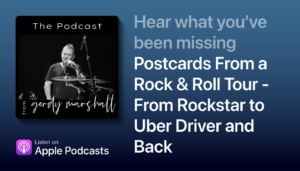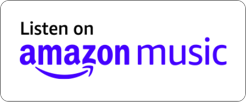 AND a big thank you to Amazon Canada for featuring Gordy's show on their Homepage under the 'Hidden Gems' collection. Click the link below and then scroll down towards the bottom of the page to see Gordy's podcast feature.

Once you're on any of these platforms, be sure to subscribe.  You'll then be alerted for all of Gordy's future Podcast episodes.
Use your camera to scan this code to discover additional platforms carrying Gordy's podcast –