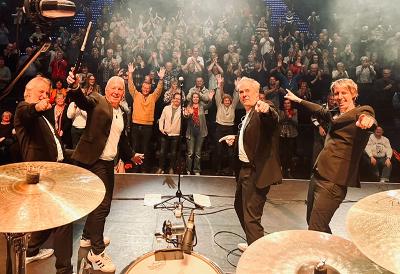 ---
We're pleased to announce that due to popular demand, our GO NOW! concert will continue to be available to purchase (with unlimited play, whenever you'd like, with no expiration date).
We have selected the platform Wistia as our web host to bring you this full concert experience. You may purchase a ticket here shown below.
Once we receive your order, we will email to you a special link to watch the concert. You can then enjoy this show as often as you'd like, as 'on demand' to fit your schedule.
Ticket pricing will remain the same as before –




USA   $ 15.00    UK   £ 12.00
Our GO NOW! concert is exclusively hosted by Wistia and is copyright protected. The link you receive may only be used by the original ticket holder. Any violation is subject to copyright infringement and all applicable laws.
We ask that you continue to support the arts by not subjecting this link/password to potential bootlegging of our work. We thank you in advance for honoring our copyright. If you would like your friends to see the show, please send them to our ticket page .
---
---
ON DEMAND UK TICKETS –
£ 12.00
IMPORTANT / PLEASE READ – For those buying an On-Demand ticket for a guest, please note – you will be unable to forward the link onto a third party for copyright reasons. Please make the purchase as normal in your name, then email us at
and include the recipient's full name and email address – we will amend the details from this end and send the link to the recipient of your gift.
---
       APPRECIATION GESTURE
(AKA- Show The Band Some Extra Love and Support).
Thank you
£ 2 Appreciation Gift 
£5  Appreciation Gift 
£10 Appreciation Gift
£25 Appreciation Gift
£50 Appreciation Gift
£100 Appreciation Gift