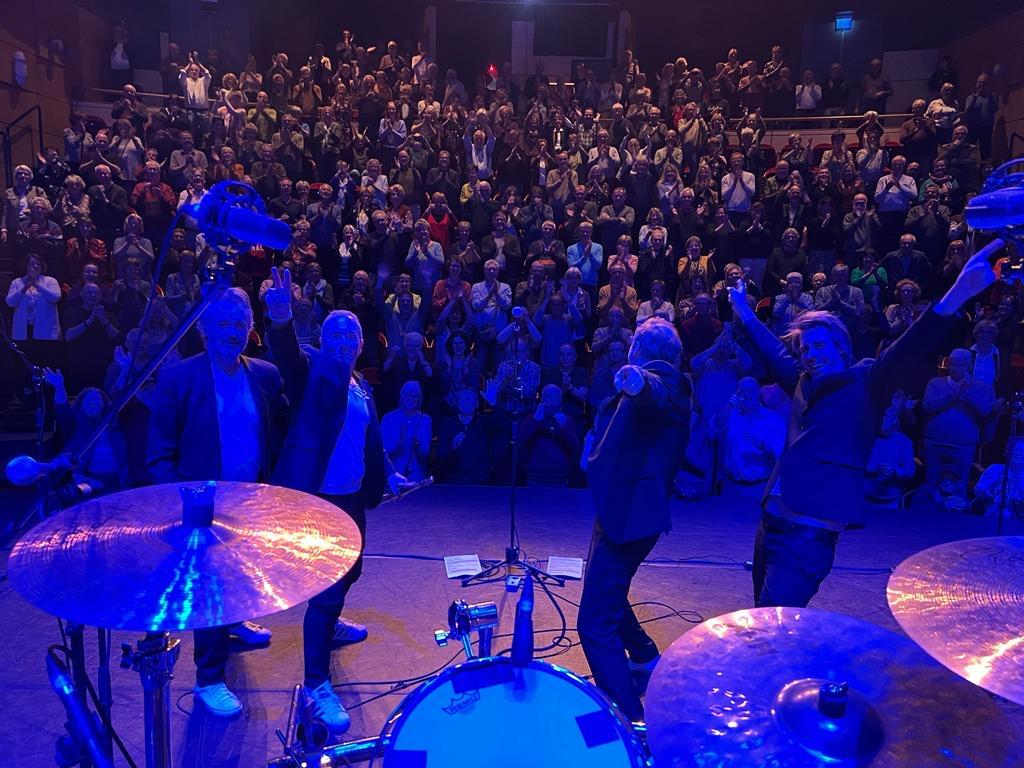 ---
Alan B 23 August 2023I've seen these guys 4 times. If you like the Moody Blues then get along to see them, they are brilliant.
John 19 April 2023
Playing Moody Blues for many years and visiting you in Lelystad was absolutely fabulous thank you, thank you, thank you. I was great !!. I was there with my first love, hadn't seen her in over 40 years, listing to Night in White Satin, which I know by heart has now a different meaning. Life has a strange serendipity this will be our song for many years to come.
Thank you!!
Fabulous did not know what to expect, My wife and I have seen just about everybody from 60 s to the 70s these musicians are up there with the best, I saw Moody Blues originals Wycombe Town Hall, Go Now took me right back, cannot believe a show like that for £25. We were with our friends, one owner of a major sounds, lighting, and rigs company usually very critical, but could not fault anything. Thank you for a great evening, come back soon
---
Anna October 22 2022 Kleinhans Hall.
It was an absolutely magnificent show! Listening to the Moody Blues songs with the Buffalo Philharmonic was just fantastic. I felt surrounded by the music I love. Go Now did an awesome job of replicating every nuance and notes of my all time favorite group. Parking was a breeze and leaving was even easier.
---
Susan   October 22 2022 Kleinhans Hall.

The show was marvelous! I highly recommend seeing it if you get the chance!
---
Dr. Thanuja Hamilton September 18th 2022
Really so amazing! Thank you for a fantastic show. Been a subscriber to Philly POPS for years and this was one of my absolute favorites
---
Shelley and Les     Sept 16,17 2022
GO NOW! performing with The Philly POPS was pure magic and a true masterpiece. We've also been fortunate to see their 'non orchestral' concert several times. Both formats are music excellence at its finest. 
The GO NOW! band members are

world class musicians and the absolute  'gold standard' when it comes to performing LIVE. 
---
Debby    September 19th 2022
One of the best Pops concerts in the last 15 years! Thank you!
---
Sheila       September 19th 2022
Great show! Philly POPS
---
Vincent     September 17th 2022
It was a great show! Philly POPS
---
Alberta      September 17th 2022
Love, love the whole show was amazing. Saw you Friday night, I am in awe. I didn't get to go in lobby, but I ordered the CD on line today. I had front row seats on Friday. Philly POPS
---
Nancy       September 18th 2022
The show was about absolutely wonderful with each member of the band bringing the music of the Moody Blues to life brilliantly! Philly POPS
---
Steve         September 16th 2022
Just finished the show…excellent! Philly POPS
---
Georgi         September 17th 2022
Fantastic evening of musical memories! Philly POPS 
---
Gina        September 17th 2022
Your group Go Now was a wonderful surprise addition to The Philly Pops plays The Moody Blues tonight. It was a fantastic show. Thank you!
---
Donna        September 19th 2022
Amazing show  

Philly POPS
---
Ilonka  August 21st 2022
My first Go now! Show. I smiled the whole time. They are so entertaining. If you never seen them before, then you should give it a go. They are rocking you out of your chair. You wanna dance and sing along the whole time. Believe me, it's absolutely worth it. Brilliant
Telford Oakengates
---

Karin       August 21st 2022
After watching the fantastic GO NOW! Livestream many times my wish finally came true. Very talented musicians performed a brilliant show. Flying to the UK was well worth.   
Telford Oakengates
---
Ilonka     August 21st 2022     
This picture was taken at the Go Now! concert at clacton-on-sea in the UK 7.7.2022. Beautiful venue. We flew over from Germany just for one concert. The music is rocky and energetic. I can hardly sit on my chair everytime. I always want to stand up and dance. The best Tribute Band, if you wanna call them that. I think they deserve better than "Tribute Band". Lovely and talented musicians. This year we were three times in the UK, just to see them perform. I think that says everything.       
Clacton on Sea
---
Betty       August 19th 2022 
Brilliant! Simply brilliant!! My only advice to anyone who appreciates amazing music from amazing musicians is to … Go Now!     

Omaha Symphony
---
Trevor   June 29th 2022     
This is a 'brilliant' band, so talented, long may they continue to play the fabulous tunes of the 'moodies'! A great venue …. everything about this was excellent! Well done to all involved in putting on this terrific performance!  

Milton Keynes The Stables
---
Bob      June 28th 2022   
There's moly one word for it ………….brilliant


Milton Keynes The Stables
---
Pamela   June 12th 2022              
My friend and I are so happy we got tickets to see GO NOW! at The Eisemann. It was one of the best concerts I've seen, especially from a cover band. I was blown away by all the talented and entertaining musicians that sang my favorite The Moody Blues music. I loved the the images they showed on the screen behind them and the sound & lighting team did an outstanding job. I bought the CD and was so excited about meeting the band members afterwards & they each signed my copy. Mick Wilson – I'm in love with your voice and you were so funny and your introductions of all the members was awesome. Can't wait to go to your next show when you come back to Texas! You all were Brilliant!    
Eisemann Center Richardson Texas
---
Vicki    June 8th 2022
They are great! They do the music of the Moody Blues justice yet add their own talent to enhance the songs. They are not a "sound-alike"Moodies Blues band. They give tribute very beautifully to them.
St. Charles Illinois    Arcada Theater
---
Eric April 22nd 2022 
A brilliant evening.!! 5 fine musicians recreating the great music of the Moody Blues. Outstanding vocals from Mick Wilson. Over 2 hours of quality entertainment
Telford Theatre Oakengates  
---
Ruth   Whitley Bay September 2022
Hi,
My Dad has been a huge Moody Blues fan all his life and I grew up listening to all the albums. Before I was even aware of it I knew every word. Together we have been to every Moody blues UK tour since my first one in the early 90s. Their music has bonded my Dad and myself so tightly over the years and when I saw that Go Now was a thing I bought us tickets to the Whitley Bay playhouse on what I think was your first tour. I was sceptical and we went it with guarded expectations. You guys blew our minds! And we have again seen many times since. Last night we again saw you in Whitley Bay and I just wanted to say Thank you. I was overwhelmed with emotion at one point just thinking about how happy you make my Dad (now in his 70s) and how special it is that we can still sit and enjoy our favourite music together live. We had another fantastic night!
Amazing work.
Thank you again.
KEEP THE FAITH 🙌
---
Brilli

ant!




– John 
Lincoln, United Kingdom   

New Theatre Royal Lincoln
---
What a great show. We enjoyed ourselves so much, the music was fabulous. My wife's uncle Mike Pinder(founder member of the Moody Blues) would definitely approve of GO NOW.
– Worcester, United Kingdom

Huntingdon Hall
---
First gig in 2 yrs for me and the wife and Wow the band hit the stage running so much energy for the first two songs left you breathless, then we were treated to so many classic Moody's from all era's . Just a fantastic night and a great audience.. The spirit of the Moody Blues lives on through these Great musicians …
– David L


Worcester, United Kingdom

Huntingdon Hall
---
Simply put…..One of the best concerts I have ever seen.
—T. Davies, TAD Management

---
When this group performed here last year, I got so many people reaching out to let me know how they thought this was the best show they'd ever seen in PebbleCreek, EVER".
 —  T Baker, PebbleCreek Resort Director
---

PHENOMENAL, is the only word to describe GO NOW!

We first had the pleasure and unforgettable experience of watching them live at Medina Theatre march 2019, we could hardly contain our excitement at their return in march 2020, despite being friday the 13th, also the heightened awareness of the Corona virus on the island their loyal following came, and were duly rewarded with a performance that reached the pinnacle of excellence from this super group.
We feel humbled and completely honoured musicians of this calibre chose to play at Medina Theatre Isle of Wight, when they wouldn't have been out of place on any world class stage or venue. The love, respect, and enjoyment, of the music is what shines through with Go Now, with an appreciative audience being the ultimate compliment. THANKYOU FOR THE MUSIC, is all we can say!!
—

The Bradley family



---
Hello all at Go Now, cant wait to see you again tomorrow. It is my 4th time, and im bringing a very good friend of mine to see you for his first Go Now show. – Howard B. 
---
Wonderful show. Class musicians playing songs from a classic band

☺️

 – Colin J.
---
Great show tonight gents. – Chris F.
---
It was a great concert ! – Jim O.
---
After 18 months…fabulous to see and hear GO NOW!  The Music of The Moody Blues – The Tribute at the Concorde Clubs intimate setting last night Mick, Gordy and the boys … what a start! loved it! Just sheer joy in seeing and hearing top musicians on top form. Your enjoyment flowed through the audience to make this show very special from start to finish.

Lovely to see you again ….  – Geoff B.
---
Absolutely brilliant at the Octagon Theatre last night. – Keith W.
---
Absolutely brilliant and only half way through! –  Mary C.
---
You were brill !!!!   Pat C.
---
And a great night it was too. So good to be back watching live music and you guys especially. –

🤗🙌👍

 Nadine K.
---
Made a lot of people smile and be happy. Great show as always looking forward to our next at market drayton. – Valmai J.
---
Wow, you were fabulous once again, at the Tivoli, Wimborne on Thursday. How can I buy one of your Cd's please. Many thanks.
—

Liz G.
---
Amazing musicians. They put on an excellent show, I never tire of seeing them

🎸
—

Della B.

---
Had a brilliant night tonight at Medina theatre thanks all xx
—

Mary C.

---
Fantastic evening at the Medina Theatre. What a talented bunch you are! Thank you.

👍

😊
—

Rhona and Alan J.

---
Absolutely fantastic concert, a ray of light in all the gloom. Too many highlights to list. Sat listening to Days of Future Passed on vinyl as I write this.
—

Pete W.

---
Really enjoyed tonight. Thank you for making birthday special

.
—

Wendy J.
---
What a fantastic concert . Amazing sound . Will look forward to coming to see you again

.
—  Jane B.
---
What a fantastic concert. Thank you so much for an excellent evening. Loved every moment. Please come back to Coventry again.
—  Cheryl F.
---
Another brilliant gig

🤗
— Nadine K.
---
I have never seen such talent in all my life you were all so amazing tonight !! I grew up listening to the moody blues as my dad loves them … tonight you put on an amazing show ! I didn't want it to end

😢
Thank you for absolutely fantastic entertainment … I could listen to mick Wilson sing forever his voice is perfection

👌

enjoy the rest of your gigs … you will not disappoint .. the people are in for a brilliant show xxxx
— Daisy G.
---
Having seen these fine band of musicians several times over the last couple of years, this performance was exceptional. They just get better and better. The whole production was outstanding , and the interaction of the band members between each other and with the audience just comes across as people who are really enjoying what they are doing. A great night.
—Eric
Telford, United Kingdom
Oakengates Theatre
September 26th 2019
---
Brilliant music by brilliant musician's transported me back to the heady days of the Moody Blues, thoroughly enjoyed it and would definitely recommend fans of good music to see them.
—User52655696
Cannock, United Kingdom
Prince Of Wales Theatre
September 9th 2019
---
2 nights of great music by 5 exceptional musicians. An absolute treat.
— Eric
Market Drayton, United Kingdom
Festival Drayton Centre Market Drayton
April 28th 2019
---
Great Show, great Musicals good Sound
—Carmen
Market Drayton, United Kingdom
Festival Drayton Centre Market Drayton
April 28th 2019
---
Great show! Only complaint is that I wanted it to go on much longer! (It was a full two hours…but I just didn't want it to stop!). Hopefully they will return again…

❤️

❤️

❤️
—Jasemine
Apache Junction, AZ USA
APACHE JUNCTION PERFORMING ARTS CENTER
March 20th 2019
---
Brilliant! Took my parents and 2 cousins along for their first Go Now! experience and they loved it. My Dad rates Gordy as the best drummer he has ever seen (which is praise indeed!). Great night full if wonderful music and warm humour.
—Nicola
Skegness, United Kingdom
The Embassy Theatre
October 13th 2018
---
Brilliant live group not to be missed.
—Nicola
Tewesbury, United Kingdom
The Roses Theatre
October 7th 2018
---
A brilliant evening of the best of the Moody Blues music performed top quality musicians. A full house demonstrates the growing popularity of Go Now!, and the way they authentically replicate the Moody Blues sound.
—Eric
Tewesbury, United Kingdom
The Roses Theatre
October 7th 2018
---
Good morning,
We attended the Lancaster date and loved it. Just a quick question have you got Cds for sale?
Again loved it!
Many thanks
—Stuart
---
Hi Gordy,
I went to see on Friday at The Lancaster Grand Theatre. It was an absolutely fantastic night and we all thoroughly enjoyed it. it was just superb, so much energy with the instrumental and voices being just incredible.
Thanks
—Simon
---
Dear Gordy and company
We had the enormous pleasure of seeing you, and some other fabulous musicians, having a great time at the beautiful Grand Theatre in Lancaster tonight.
What a great gig. No one in that audience went home disappointed. You put on a great show.
We have been fans of the Moodies since for ever.
The Go Now show is fantastic, your energy is all pervading and I, for one, love it. We have seen you with the Moodies many times, loved the Buxton show with John Lodge last year, and will be both fans and promoters of your future shows.
Brilliant. Please keep it going..
—Geoff
---
We travelled through time and space to some weird and wonderful places, fuelled by classic songs from albums such as Days of Future Passed, In Search of the Lost Chord and On the Threshold of a Dream that fuelled the show's other-worldly atmosphere.
Lest we felt too grounded in the interval between sets, the second half opened with music by Moody Blue's Justin Hayward from the 1978 musical War of the Worlds.
The Go Now! concert tour was the brainchild of drummer Gordy Marshall who played with The Moody Blues for 25 years. He was joined by former 10cc vocalist Mick Wilson, guitarist Nick Kendall, bass player Malcolm Moore and Patrick Duffin on synthesizer.
—Shropshire Star
---
If you wanted to see musicianship at its very best, you needed to be in Wimborne on Thursday of last week.
Although labelled a 'tribute' the band boasts Gordy Marshall, who toured with The Moody Blues for 25 years as a session musician. Not only is he a superb drummer, he plays the keyboard, the mouth organ and the flute. The credentials of the line-up are top class.
Vocalist and percussionist Mick Wilson fronted 10cc for many years; guitarist Tim Maple is a musical director who has worked with the likes of Westlife and Boyzone; Patrick Duffin on keyboards composed the music for Loose Women; Malcolm Moore has worked with the BBC Symphony Orchestra as well as working in West End shows and Lindsay Goodhand plays the keyboard, flute, clarinet and sax.
The band started on a high with 'I Know You're Out There Somewhere' – and they just continued in the same elevated vein. Numbers ranged from the psychedelic 'House of Four Doors' to the melodic 'Isn't Life Strange'.
In addition, they included the haunting 'War of the Worlds' and 'Forever Autumn', and of course they had to play their signature number 'Nights in White Satin'.
The concert was dedicated to Ray Thomas, founding member of The Moody Blues, who died in January.
This excellent band, who had a standing ovation at the end, promised to return next year.
—Marilyn Barber – Stour and Avon Magazine
---
My wife and I were at your concert at The Stables Wavendon, Milton Keynes on the 3 March and this a quick note to tell you much we enjoyed the evening.
The music was stunning as was the band's interaction with the audience. The quality of your performance was exemplary, and it was a pleasure to be in the company of such accomplished musicians. I have been a fan of the Moody Blues since the release of "Go Now" in 1965 and really love their songs. I introduced my family to them at an early stage and they particularly love Justin Hayward's contribution to "War of the Worlds."
Thanks for a superb evening from such talented and humble people.
Best wishes for all your musical activities.
—C. Bn.
---
My hubby and me attended your do at the Wavendon Stables on Saturday night (3rd March 2018). You were absolutely fantastic. You should put your sound man in chains and never let him go!! My husband used to play in a band back in the day and I know how difficult it is to get a good balanced sound – he and you nailed it my friend!!
I get how you try to avoid doing an impression of the MB's, but I fail to see how you can get away from the fact that you are actually that good, most of the people that I spoke to in the interval said so as well.
We both enjoyed the event in the extreme and can't wait to see you again.
—C. B.
---
I would just like to thank you all for a brilliant night at the Stables MK on Saturday, my brother and I were blown away with how good you all were!
—K. P.
---
Just wanted to say that seeing 'Legend of a Band' in Eastbourne a little while back was my favourite concert of all time because of the technical precision of all players, the multi-instrumental and pure quality of each one of you. I've been lucky to have seen many concerts over the last 50 years including The Moodies 20+ times, The Blue Jays and even back to The Beatles, Cat Stevens, Everly Brothers, Jimmy Webb, Albert Lee, The Carpenters, The Crickets (my old friend J I Allison) and the incredible Buddy Rich BUT 'The Legend of a Band' concert that night in Eastbourne blew me away for which I thank you Gordy from the bottom of my musical heart. I'd dearly love to be a Facebook friend). I attach pic of J I Allison and me when he played here with the Crickets a few years back.
—Stuart
---
'What a brilliant show at the Prince of Wales theatre last night. Well done everyone. Look forward to your return'.
—Lyn J.
---
'Saw them for the first time in Cannock and being a big fan of the original Moody Blues was apprehensive . Needn't have worried five very talented musicians who did the music proud. Will definitely go to see them again'.
—Harry J.
---
'Fantastic!…….absolutely brilliant night…cant wait to see them again'.
—Chris C.
---
'Great show last night at the Civic'
—Bill C.
---
'Fab show again tonight guys. Good luck with the rest of the tour' xx
—Sue E.
---
'Enjoyed it sooo much on Sunday in Westcliffe… am coming back for more in Chelmsford!!! Row B this time'. 😊
—Jo T.
---
'Waiting patiently for you guys to come back to Dorset in October.' x
—Liz G.
---
'Great show in Chelmsford last night'.
—Linda M.
---
'Another amazing show at Southend. Can't wait for the next.'
—Anna W.

---
We went to see Go Now the Moody Blues show (Clacton UK) . The band were awesome and the show was even better than last years ! Five top class musicians on stage playing some of the best tracks from the Moody Blues. Led by Mick Wilson from 10cc and the original drummer from the Moody Blues made it a night to remember .Gordy Marshall on the drums ,flute and vocals was a real showman . The crowd bought the guys back for an encore at the end . A great night in a very good venue .
—itfc54



---