Postcards From a Rock and Roll Tour is drummer Gordy Marshall's witty and wry take on life on the road touring with 2018 Rock & Roll Hall of Fame inductees,  The Moody Blues. Part memoir, part travelogue, it is a candid, unexpected, and often hilarious account of just what it's like to travel around the world playing to sell-out audiences, living out of a suitcase, and spending days and days on a tour bus. If you thought being in a rock band was all sex, drugs, and rock and roll, then think again.
Be sure to check out what Pete Feenstra, presenter from GET READY TO ROCK radio has to say about the book :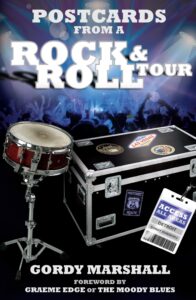 Click below to hear Gordy narrate a clip from his book
Gordy will be happy to sign copies of each book. Order information for paperback copies is shown below. All books are sold in British sterling. Please check the prevailing exchange rate for currencies outside the UK. Make certain to note in the comments section on PayPal, the mailing address information where your item is to be sent. Allow 4-6 weeks from time of purchase for your order to arrive.
'POSTCARDS FROM A ROCK & ROLL TOUR' PAPERBACK

IN STOCK
Paperback Copy – UNITED STATES  (Mainland only. Includes international shipping & handling)

£

15.00 
Paperback Copy -UNITED KINGDOM (Includes shipping & handling)

£

12.50 
Paperback Copy -EUROPE  (Includes international shipping & handling)

£

15.00